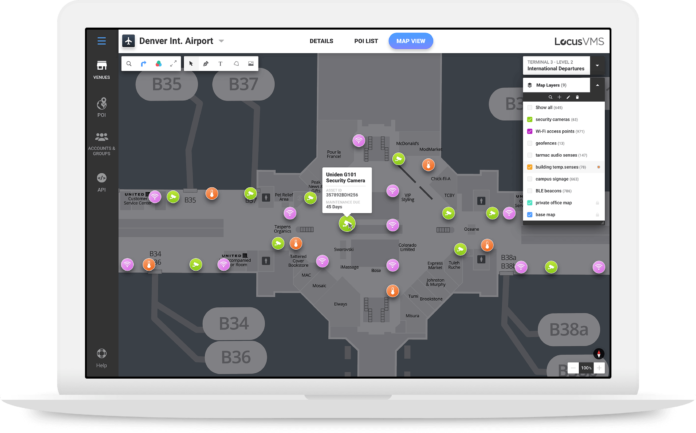 LocusLabs Partners with Dallas Fort Worth International Airport to Give Travelers a Personalized Augmented Reality Experience- 3D mapping technology company builds first scalable AR tool to customize the mobile experience in the largest buildings on earth.
OAKLAND, Calif. (PRWEB) June 24, 2018.  LocusLabs said it is giving airports and airlines tools to create highly personalized augmented reality experiences for travelers. By piloting its new technology at Dallas Fort Worth International (DFW), the company is working to ensure that millions of passengers can now maximize their time from curb to gate like never before.
Since its initial launch in 2015, LocusLabs has been digitizing the indoor world by providing global venues, enterprises, and brands a location platform to share, manage and communicate about their physical space. Their unique toolset for location-based content management has led to their success and partnerships with the largest travel brands in the world. These same tools are now allowing airports to place virtual objects and indicators throughout their physical space, visible to passengers via mobile applications.
"Augmented Reality provides an entirely new canvas to view information about our world," said Campbell Kennedy, co-founder of LocusLabs. "We know it will provide value to passengers at the airport, but the technology does come with its own set of challenges within large indoor environments where information accuracy is critical. LocusLabs is the only company today who can implement this at the scale required due to our reality capture technology."
The pilot program launched in February 2018 and will run through September. Dallas-Fort Worth has seen success and received positive feedback thus far.
"DFW continually looks for the best ways to improve the customer experience, and augmented reality offers some unique solutions for wayfinding in an airport that covers five terminals," said Megan Bozarth, Senior Manager of Digital Marketing for DFW. "We've developed several digital mapping tools to help customers get from the curb to the gate or find their favorite restaurant. Augmented reality maps enhance those capabilities and make it very clear where to turn, stop or find the best shop for last minute gifts."
How it works
Using the LocusLabs AR solution, users navigate key portions of their airport journey using augmented reality. With the app open and holding their mobile device upright vertically, the user can see:
Contextualized Signage: existing signs and displays in the airport now have virtual overlay in the user's native language, and information is specific to that user's travel journey
Personal Navigation: when a user is navigating to their gate, indicators appear on the along the floor showing them the most optimal route
Curated Retail: suggested and popular items are highlighted when the user approaches a restaurant or shop.
"Certain information is made more intuitive and more contextual in an augmented reality experience," says Kennedy. "But other use cases may be best viewed within a 2D or 3D map. These considerations are what we are discovering throughout the course of our pilot programs. In the end, it comes down to how we communicate information about the physical world."
To generate all the data necessary to build complete augmented reality experiences, LocusLabs uses its proprietary reality capture technology. The system uses LiDAR, the same technology used in self-driving vehicles, to build a 3D model of the entire interior of the building.
This year, LocusLabs is taking its technology and platform into other vertical markets with a focus on campus-wide experiences and efficiencies.