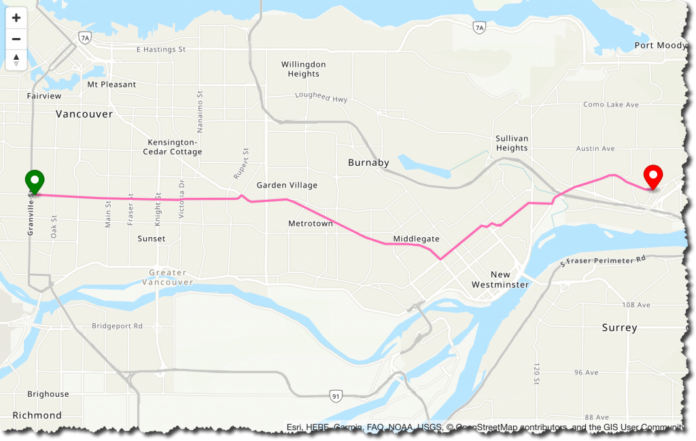 (Photo:  Amazon)
Online Giant Says Location Service Costs Less Than Leading LBS Companies' Offerings.
Amazon Web Services [AMZN] announced the general availability of its Amazon Location Service, which allows customers to embed location technology into their applications using data from location-based services providers.
The new service offers Esri and HERE Technologies maps, points of interest, geocoding that converts location information to a point on a map, route planning, geofencing and asset tracking.  The company says the service is one-tenth of the price of "most common LBS providers" as customers only pay for the number of user requests, assets tracking or devices managed, the company said.
In December of 2020, the company made Amazon Location Service available in preview form, according to Amazon's Marcia Villalba in a company blog. Villalba said the company also rolled routing and satellite imagery as new service features.
Amazon Location Service is leveraging the boom in asset tracking, route planning, and location-based marketing that rely on connected devices.  However, companies have been hampered by privacy and security, high costs and difficult integration of location services, the company said.
Amazon said LBS providers often impose licensing restrictions that give them access and use of a customer's location data as a significant barrier.  The company said that the service gives customers control of their location data by removing metadata and account information from queries sent to an LBS provider.
The company said the service is available in large areas where there are AWS servers. Each of those locations serves a large region of availability zones in Northern Virginia, Ohio and Oregon in the United States.  In Europe, Frankfurt, Ireland and Stockholm.  In Asia-Pacific regions:  Singapore, Sydney and Tokyo.  Customers can assess the service through the company's AWS Management Console, AWS Command Line Interface (CLI), or via the Amazon Location Service API.
Some current customers include Azit, a Japanese Mobility-as-a-Service company; Command Alkon, a delivery company that focuses on technology solutions for the global heavy construction industry; Coolstays, which focuses on showcasing unique and unusual places to stay across the UK, Europe and other areas with 3 million monthly page views and nearly 400,000 users; and PostNL, an e-commerce and postal logistics provider in the Netherlands.
Key Takeaways:
This announcement is a big deal because of the entity making it…and it claims that it's already cheaper than existing LBS offerings ("the most common LBS provider").
Amazon Location Service has built-in tracking and geofencing capabilities.
Amazon Location Service is  integrated with Amazon CloudWatch, AWS CloudTrail, and Amazon EventBridge for monitoring, management, and log data.