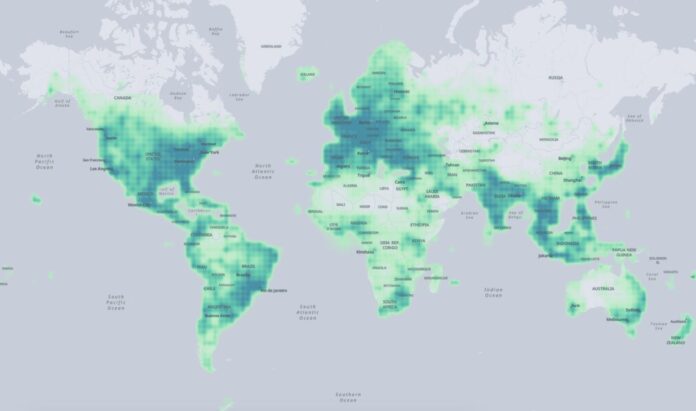 Third-party developers will have access to open map data, rather than relying on Google Maps or Apple Maps
The Overture Maps Foundation (OMF), an initiative formed by Amazon AMZN 0.00, Meta META 0.00, Microsoft MSFT 0.00 and TomTom [TOM2], today announced the release of its first open map dataset.  The new release includes four data layers that include places of interest (POIs), buildings, transportation network and administrative boundaries.
Of the layers, buildings data features more than 780 million structures, which are important for consumer mapping, AR-based mapping as well as applications that leverage digital twins for infrastructure management, said Marc Prioleau, OMF executive director. "We are not focused initially on bathymetric mapping or elevation models—so you'd assume applications requiring that data would not be targeted.  Ultimately, Overture's priorities are driven by the members."
The new data, with more than 59 million POIs, will allow third-party developers to create mapping and navigation products without having to rely on Apple Maps AAPL 0.00 or Google Maps GOOG 0.00, who currently dominate online mapping.  However, Prioleau said that Overture's Building team was happy to see the release of the Google Open buildings dataset.
"We did a quick check on the coverage and quality and it seems very promising.  We will do more evaluation in the next month," he said.  "I was especially happy to see that Google released the data under two open source licenses, the ODbL license, which is widely used by OpenStreetMap, as well as the more permissive CC-BY-4.0."
The buildings data that OMD released includes open buildings data from OpenStreetMap, Microsoft's AI-generated buildings and Esri's Community maps project. "The team will evaluate the Google building data and conflate it with our existing sources if it improves the product.  I hope that it is a start of a trend for Google in making more map data open," Prioleau said.
Beyond consumer mapping markets, and strong interest in the automotive market, a big area could be enterprise applications, Prioleau said.  "Two of the founding members run large cloud computing platforms, so it is reasonable to assume that they would be highly interested in enterprise applications.  There are significant applications in logistics and delivery services which would classically be considered enterprise level applications of map data," he said.  "There are also a large set of enterprise use cases that use map data for analysis but may never display a visual map."
OMF, founded in late 2022, features new members Esri, Cyient, InfraMappa, Nomoko, Precisely, PTV Group, SafeGraph, Sanborn and Sparkgeo.  "Membership growth is an outcome, not a goal.  Overture will add members as we bring more value as an open map data ecosystem," Prioleau said.  "That means that we systematically build and release new open data sets, structure that data in a way that is useful to developers, and build feedback loops to refresh that map.  We want to build that ecosystem in a systematic way.  If we can keep doing that, I think membership growth will take care of itself."
The datasets are available for download at https://overturemaps.org/download.