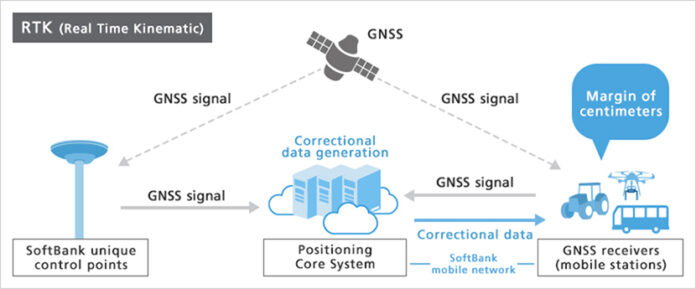 Three companies have announced plans to develop GNSS augmentation systems for Japan, the United States and Europe.  SoftBank, ALES and Thalwil, Switzerland-based u‑blox [UBXN] have signed a memorandum of understanding (MoU) to cooperate on GNSS augmentation services for global markets.
Japan's ichimill GNSS augmentation service is provided by SoftBank, while its subsidiary ALES runs a business that generates and delivers positioning correction data, the company said.  For its part, u‑blox provides electronic components for wireless communications and the PointPerfect GNSS augmentation service in Europe, the United States and other countries.
In addition, the companies will construct GNSS augmentation infrastructure for Japan, Europe and in the U.S., while also developing compatible GNSS receivers and devices to expand service areas.  SoftBank, which has operated ichimill since November 2019, has developed its own GNSS receivers and is offering them in Japan.  Centimeter-level positioning service has been offered by ALES to customers in Japan since 2020.
Overall, the companies say they will consider, in 2022, developing a global correction data delivery infrastructure that delivers unified correction signal formats.  Through this infrastructure, companies using ichimill or PointPerfect will be able to conduct GNSS augmentation if they are in range of both services, the companies said.  The companies say this arrangement will eliminate the need for separate service contracts by country or region.
Contact: Natacha Seitz, u-blox, 41 76 436 0788, natacha.seitz@u-blox.com, www.u-blox.com.