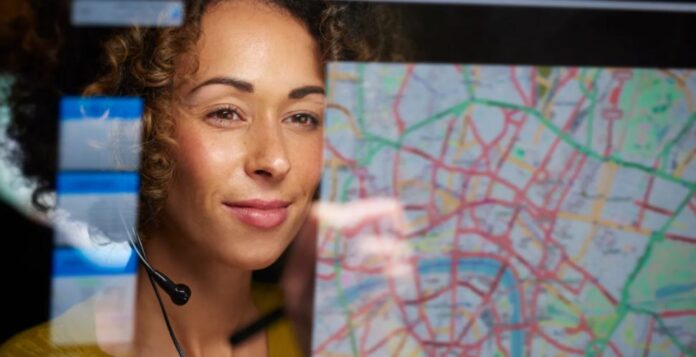 Geotab Showcases Canadian Innovations
Geotab is a technology partner in Project Arrow, an initiative by The Automotive Parts Manufacturers' Association (APMA) of Canada to develop the first all-Canadian, zero-emission concept vehicle. Geotab is contributing to the development of the Mutualism partnership's intelligent cockpit, which aims to transform the driver experience in next-generation vehicles, the company said.
Earlier this year Geotab, with Synop, announced a partnership that will give fleet operators in North America access to integrated EV charging and energy management within Geotab's software platform, MyGeotab.  The company, working with General Motors (GM) in Canada, Geotab announced the expansion of its integrated telematics solution. Geotab's offering allows Canadian customers to manage their fleet with OnStar embedded factory hardware.
Contact:  Geotab, www.geotab.com.
Parkopedia Partners With Valtech Mobility
Parkopedia and Valtech Mobility have partnered to provide vehicle-centric digital services to drivers.  The deal combines Parkopedia's parking, charging and payment processing expertise with Valtech Mobility's app creation, integration and backend development experience, the company said.
Some of the markets that Parkopedia and Valtech Mobility, a joint venture of the Volkswagen group and the digital agency Valtech, are going after include parking, charging, fueling and road tolls.  The companies plan to offer the service to automakers that will cover the in-car transaction process, from individual point of interest data, to user registration and payment processing, enabling automakers to offer a frictionless in-car commerce experience, the companies say.
Contact:  Adam Calland, Parkopedia, 44(0)7838219129, adam.calland@parkopedia.com.
Oxbotica Partners With Google Cloud
Oxbotica has announced a strategic collaboration with Google Cloud that it hopes will accelerate the deployment of its autonomous software platform.  The partnership will combine Google Cloud's expertise in cloud infrastructure with Oxbotica's autonomous vehicle software to create business autonomous driving solutions.  Oxbotica plans to use Google Cloud products to help develop, test, validate, and verify its self-driving technology, the company said.
Contact:  Oxbotica, www.oxbotica.com.
U.S. Carrier Selects NextNav's Pinnacle
NextNav NN 0.00 has been selected by "a nationwide U.S. carrier" to deliver vertical location capabilities for Enhanced 911 via its Pinnacle service.  The agreement allows z-axis data for 911 calls made on the carrier's entire device portfolio, the company said.
NextNav says that multiple wireless operators, which they haven't named, have selected its Pinnacle service to provide z-axis capabilities for caller geolocation and emergency response.  This includes "a tier-one carrier" that launched the service on several device in past few months, the company said.
Contact:  NextNav, media@nextnav.com, https://nextnav.com.
Sheeva.AI and APSG Partner
Sheeva.AI and Athena Partners Strategy Group have announced a strategic partnership that will see them collaborating on bringing parking transactions to worldwide connected car infotainment screens.  Sheeva.AI, which provides vehicle location-based services via its SheevaLocate, allows drivers to pay for and receive EV charging, fueling, parking, curbside pickup, drive-thru and tolling services.  The partnership will bring parking payment apps and pay station and meter companies into the car, the company said.
Contact:  Trevor Curwin, Sheeva.AI, (415) 646-6063, tcurwin@sheeva.ai, www.sheeva.ai.
U-blox and Tallysman Wireless Partner
U-blox and Tallysman Wireless have signed a design partner agreement for the development of next generation PointPerfect RTK-augmented smart antennas. The PointPerfect GNSS augmentation service is now available in North America, Europe, and parts of Asia Pacific.
The deal calls for the u-blox ZED-F9R GNSS and the NEO-D9S L-band receivers integrated with Tallysman's Accutenna technology.
Contact: u-blox, www.u-blox.com.
Mercedes-Benz Displays In-Car Payments
Mercedes-Benz Financial Services USA said its new in-car payment feature is available on any Mercedes-Benz in the United States equipped with the MBUX infotainment system and on-board navigation.  The system features in-car payments for off-street parking from partner Parkopedia.
The system allows drivers to identify available off-street parking facilities and reserve a parking space via the infotainment system, the company said.  The system also enables motorists to select check-in and check-out times, and view the total cost and confirm their booking, at which point drivers will be sent a QR code to scan when arriving at the car park to gain entry, the company said.
Contact:  Lynn Munroe, for Mercedes-Benz, (845) 548-1211, egcpr@egcgroup.com, www.mercedes-benz-mobility.com.
---
Create a FREE ManyMe Account.
---
WirelessCar Opens Germany Office
WirelessCar has opened a German branch in Munich.  Theo-Han Jansen, who has more than 30 years of experience in the automotive industry, will manage the soon-to-be hired team.  WirelessCar develops software solutions for connected cars, including optimized EV routing and journey intelligence.
Contact:  Noemi Kubiak, WirelessCar, 46 765 200727, noemi.kubiak@wirelesscar.com, www.wirelesscar.com.
Quectel launches FCM360W Wi-Fi 6 and Bluetooth 5.1 Module
Quectel Wireless Solutions has launched its latest FCM360W Wi-Fi and Bluetooth module  that combines a high-performance processor with Wi-Fi 6 and Bluetooth 5.1 capabilities, the company said.  The module is targeted to smart homes and industrial IoT use cases.
Contact:  Quectel, www.quectel.com.
Airgain Announces Asset Tracking Alliance With Sensing & Control
Airgain AIRG 0.00 has partnered with Sensing & Control (S&C), an IoT service provider based in Barcelona.  Airgain's trackers for the logistics, distribution, construction, manufacturing, and industrial industries will combine with S&C's IoT experience for the Spanish market, the company said.
Contact:  Marco Ceglie, Airgain, (602) 245 6212, mcegliex@airgain.com, www.airgain.com.
Queclink Introduces LTE Cat 4 Vehicle Trackers for Latin America
Queclink has just released two LTE Cat 4 vehicle trackers, GV58LAU and GV310LAU, in Latin America.  The new GV58LAU and GV310LAU are 4G-enabled updates to Queclink's previous 2G/3G telematics products.
Both new products have BLE 5.2 that allows for Bluetooth connectivity.  Other features include a temperature/humidity sensor, iButton, and CAN100 that can be connected to the devices via Bluetooth.
Contact: Queclink Wireless Solutions, www.queclink.com.
Ituran Brazil Partners With Santander
Ituran Location and Control ITRN 0.00 has announced that its Brazilian subsidiary, Ituran Brazil, and Santander, have formed a partnership in the automotive market.  The deal combines telematics services for customers who opt to install a vehicle tracker.  In addition, the partnership incorporates credit insurance, to protect the financing which guarantees total or partial payment of the loan in case of inability to pay, the company said.
Contact:  Udi Mizrahi, Ituran, 972 3 557 1348, udi_m@ituran.com, www.ituran.com.
Zonar Announces SoC Data For EV School Buses
Zonar has announced state-of-charge (SoC) data for electric vehicle (EV) school buses. SoC is captured with the Zonar V4 telematics control unit, providing school transportation departments with real-time awareness of each EV's range and charging status, the company said.
Other features include vehicle location in real time, current and historic state-of-charge data, Stop-by-stop driving and charge analysis and trip duration and history.
Contact:  Zonar, www.zonarsystems.com.
AiRISTA Announces Support for Cisco Catalyst Access Points
Real Time Location Services provider AiRISTA has announced support for application hosting on Cisco CSCO 0.00 Catalyst series access points.  Customers are able to deploy AiRISTA components like its Bluetooth Low Energy Angle of Arrival gateway to the Catalyst access point.  The addition of AoA gateways to Cisco wireless environments provides such RTLS capabilities as submeter location accuracy and tracking, the company said.
Contact:  AiRISTA, salesinfo@airista.com, www.airista.com.
People
Comtech CMTL 0.00 has appointed of former Under Secretary of Defense for Acquisition and Sustainment Ellen Lord and former U.S. Army Chief Information Officer (CIO) Lt. Gen. Bruce Crawford to its board of directors.
Chris Oldham has been named IoT senior sales director/EMEA team manager at KORE KORE 0.00
Phunware PHUN 0.00 has appointed Troy Reisner as CFO. Reisner will succeed Matt Aune and will become a member of the company's executive management team.
AiRISTA has appointed Wyatt Meek as global vice president of sales.

---
If you're a student in the US looking for a better way to pay for higher education, Bold provides thousands of students with $25k scholarships every year. Enter to win one of our monthly $25,000 scholarship to go towards your tuition, student loan debt, or other education related expenses!
Apply to a Bold scholarship today
---
Jobs
Jobs. TomTom.
Jobs. Pozyx.
Automotive Product Marketing Manager. Quectel.
Business Development Representative. PTV Group.
Business Development Manager – Orolia Defense & Security. Safran Navigation & Timing.
Careers. BindiMaps
Careers. Inrix.
Careers. oneNav.
---
Click HERE to Join our growing Location Business News LinkedIn Group!
---