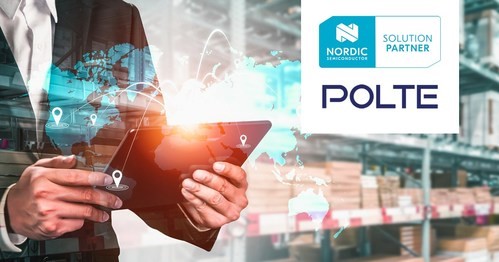 Nordic Semiconductor has announced that Polte has joined the Nordic Partner Program as a Solution Partner.  The partnership will allow asset tracking developers, using Nordic's nRF9160 low power System-in-Package (SiP), the ability to integrate location intelligence into their IoT-based asset tracking designs.
Polte's Cloud Location over Cellular (C-LoC) technology offers developers using Nordic's nRF9160 SiP more secure and accurate location intelligence for asset tracking, the company said.  The companies say they are offering a location solution that leverages Polte's CoreRes (CR) capability via the Polte Location API.
The product is designed for the transportation, logistics, manufacturing, healthcare and construction industries, which require location insights into moveable assets–but are currently restricted by limited visibility either indoors or outdoors, the company said.  The company used a pallet for example that can be tracked without being restricted to satellite navigation or beacons.
"This partnership will provide Nordic customers with a cloud-based cellular location capability that is accessible through any cellular-connected IoT device integrating the nRF9160 SiP, without the need for additional infrastructure," said Ed Chao, Polte CEO, in a statement.  "This allows developers to benefit from enhanced performance indoors, outdoors, and everywhere in between."
Contact: Polte, www.polte.com.