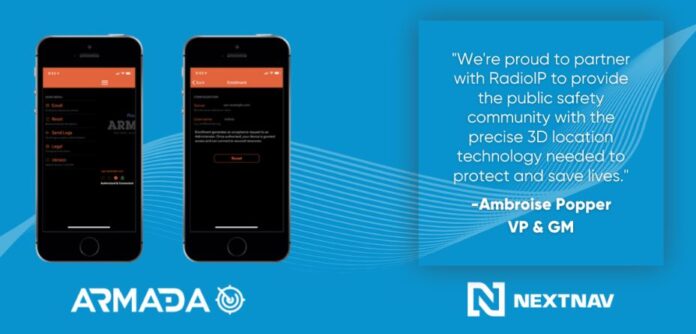 RadioIP, NextNav Announce Launch of Armada
RadioIP and NextNav NN 0.00 have announced the commercial launch of the latest release of the Armada VPN Client and Synopsis Control Center, which includes NextNav's Pinnacle z-axis vertical location intelligence.
RadioIP created the Armada Mobile VPN app to protect against malicious actors who are focused on disruption, communication interference, public safety destabilization and other location spoofing activities.  RadioIP's partnership with NextNav's z-axis location service Pinnacle allows Armada to capture and securely deliver not only x and y location tracks, but also vertical (z-axis) data, the company said.
Contact:  NextNav, media@nextnav.com, https://nextnav.com.
Targa Telematics Integrating BMW and Mini Connected Fleet Data
Targa Telematics has signed a strategic partnership with BMW to integrate a stream of connected car data directly into its platform. This enables the company to provide its customers with an advanced suite of GDPR-compliant telematics solutions.  The objective of Targa Telematics is to be able to provide fleet managers and drivers with more digital services and simplify the provisioning process in vehicles, the company said.
Contact:  Susanne Furini, Targa Telematics, 39 345 7274925 susanne.furini@targatelematics.com, www.targatelematics.com.
Maxar to Provide Environmental Monitoring
Maxar Technologies MAXR 0.00 has announced that the Guyana Ministry of Natural Resources has entered into a three-year contract with the company to provide environmental monitoring services for both offshore and terrestrial applications.
Guyana's Environmental Protection Agency will use Maxar's Crow's Nest Maritime Monitoring and Security products to support offshore petroleum monitoring. The EPA will use the Crow's Nest Maritime Tipping and Cueing Service, which leverages Maxar's optical satellites, to monitor drilling vessels for regulatory compliance and safety, the company said.
Contact:  Brian Wagner, Maxar, (202) 302-8754, brian.wagner@maxar.com, www.maxar.com.
New Leica HawkEye-5 Lidar Sensor
The new stabilized Leica HawkEye-5 bathymetric lidar sensor increases flight efficiency by up to 25 percent for detailed data capture in deep waters, the company said.  The system fits the Leica PAV100 gyro-stabilized mount, which isolates the sensor from unwanted aircraft movements, providing consistent data density and more efficient area coverage, the company said.
The new sensor allows users to reduce the operational costs and the carbon footprint of each mission and to complete more projects in a shorter time frame, the company said.
Contact:  Leica Geosystems, media.geo@leica-geosystems.com, www.leica-geosystems.com.
STMicroelectronics Announces Status of Common Share Repurchase Program
STMicroelectronics STM 0.00 has announced details of its common share repurchase program.  The company announced the repurchase, by a broker acting for the company, 139,089 ordinary shares at the weighted average purchase price per share of EUR 45.8388 and for an overall price of EUR 6,375,673.43, the company said.
Contact:  Alexis Breton, STMicroelectronics, 33 6 5916 7908, alexis.breton@st.com, www.st.com.
---
Create a FREE ManyMe Account.
---
The Institute of Navigation GNSS+ 2023 abstract deadline is March 3, 2023.
Submit your abstract at this link. The ION's 2023 ION GNSS+ meeting, GNSS + Other Sensors in Today's Marketplace, the 36th International Technical Meeting of the Satellite Division, will take place Sept. 11-15, 2023, at the Hyatt Regency Denver.
Contact: Institute of Navigation, ion.org/gnss.
Phunware Extends LBS Contract
Phunware  PHUN 0.00 has extended its contract for location-based services to the 250,000-square foot Outpatient Pavilion at VHC Health and integrate TIBA Parking Systems with VHC Health's mobile digital front door.  Some capabilities include real-time "blue dot" indoor positioning, including mapping, navigation and wayfinding.  In addition, the company offers beacon maintenance to ensure LBS performance.
Contact: Phunware, press@phunware.com, (512) 693-4199, www.phunware.com.
Innoviz Technologies and General Laser Sign Distribution Agreement
Innoviz Technologies INVZ 0.00 has signed a distribution agreement with General Laser for the company's lidar solutions in the European market. This is Innoviz's first distribution agreement in Europe, the company said.  General Laser will use its network of more than 70 resellers across Europe to distribute Innoviz's lidar solutions, the company said.
Contact:  Rob Moffatt, Innoviz Technologies, (203) 665-8644, investors@innoviz-tech.com.
LightBox Rolls Out Zoning Data Product
LightBox announced its national zoning data product that provides customers with a single, centralized, and standardized source for parcel-level zoning data across the country.  Detailed information on zoning requirements, setbacks, density, building height, and more, are available and standardized across jurisdictions, enabling customers to streamline acquisition searches, the company said.  The expanded offering connects to LightBox's SmartFabric, bringing together geospatial and non-geospatial datasets in a connected model, the company said.
Contact:  LightBox, lightbox@fischtankpr.com, www.lightboxre.com.
People
Wiliot has named Thaddeus Segura as vice president of data products and algorithms, overseeing the company's newly created Data Division. Segura joins Wiliot after a decade at Walmart.
Jobs
Careers. Hexagon.
Multiple Positions. TomTom.
Jobs. Swift Navigation.
GNSS Network Services Administration. Topcon Positioning.
Membership Engagement Coordinator. Institute of Navigation.
Job Openings. Pozyx.