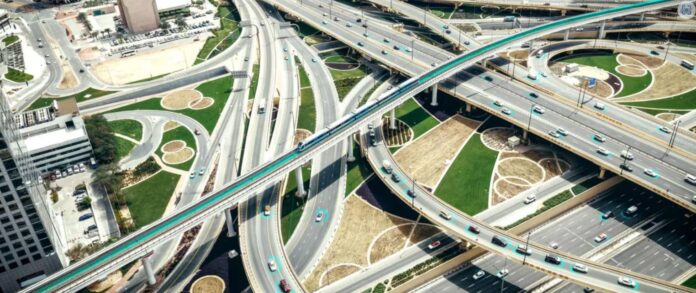 HERE Technologies and Iteris Partner to Create New Smart Mobility Solutions
HERE Technologies has partnered with Iteris ITI -4.99%↓ to integrate location-based services into Iteris' Clear Mobility Platform.  The five-year contract includes HERE Traffic Products, HERE Maps and HERE platform services.  HERE products will also work with Iteris' mobility intelligence application, ClearGuide.
Map content and data provided by HERE, and visualized through ClearGuide, will provide insights to transportation engineers, transportation planners, infrastructure operators, and roadway construction teams, the company said.  More than 50 government agencies, municipalities and commercial entities use ClearGuide.
Contact:  Breanna Wallace, Iteris, (949) 996-5348, brwallace@iteris.com, www.iteris.com.
Honda Demonstrates AWV, Seeks Partners
Honda displayed its Autonomous Work Vehicle (AWV) for the construction industry this week at CONEXPO-CON/AGG 2023 in Las Vegas.  The Honda AWV features include improved navigation in locations where GNSS service is weak or unavailable through the use of lidar sensors, the company said.
The Honda AWV employs a suite of sensors to operate autonomously, using GPS for location, radar and lidar for obstacle detection and cameras for remote monitoring.  Honda is looking for partners in product distribution and support/after-market sales and software and attachment development.
Contact:  Honda, AWV@na.honda.com.
Woolpert Contracts With Trexity To Provide Google Maps Services
Woolpert has been contracted by Trexity to provide Google Maps Platform services and technical support.  These services include Google Maps APIs, Optimization AI, and Google Cloud solutions, which will support Trexity's small- and medium-sized business clients, the company said.
For the contract, Woolpert customized its Google solutions to include Directions and Cloud Fleet Routing APIs. The Directions API enables Trexity to calculate directions and distance between locations for quick delivery estimation, whether for single or grouped deliveries, the company said. Contact:  Jill Kelley, Woolpert, (937) 531-1258, www.woolpert.com.
CDG Launches Samsara Tracking, Route Building, and Live Share Integration
Communications Data Group has launched active tracking, dynamic route building, and live share capabilities for its integration between Samsara IOT -6.94%↓ and CDG's MBS consumer and enterprise BSS/OSS solution.  The deal allows MBS to determine a technician's current location, status, and proximity to open orders and tickets.  This integration also exports live GPS location data from Samsara to notify customers when technicians are enroute, the company said.
Contact: Ryan Travaille, CDG, (217) 402-3445, ryant@cdg.ws, www.cdg.ws.
BI Wins Tracking Device Contract
GEO Group GEO -9.99%↓ has announced that its subsidiary, BI Inc., has been awarded a five-year contract by Santa Clara County, Calif., for the use of BI VeriWatch, which is a wrist-worn GPS tracking device.  It allows for real-time and discrete monitoring of individuals under community supervision by parole, probation, pretrial release and other law enforcement agencies.
VeriWatch is the first GPS tracking device in community corrections that uses biometric facial comparison technology to authenticate the identity of the individuals wearing the device, the company said.  Financial details were not disclosed.
Contact:  Pablo Paez, GEO Group, (866) 301-4436.
Quectel launches Wi-Fi HaLow module
Quectel Wireless Solutions has launched its FGH100M Wi-Fi HaLow module, providing long range data transmission, low power consumption, less complexity as well as improved penetration through walls and other obstructions for a wide range of IoT applications, the company said.
It provides ten times the range of traditional Wi-Fi, making it suited for both indoor and outdoor IoT scenarios such as home and industrial automation, smart agriculture, smart city, smart building, warehouse, retail store, campus and more, the company said.
Contact:  Quectel, marketing@quectel.com, www.quectel.com.
Prepared Partners With NextNav
Prepared has selected NextNav NN -16.15%↓ Pinnacle to power its z-axis location ecosystem to allow callers and responders access to data and visualization tools.  Prepared's software currently enables 9-1-1 dispatch centers to livestream from the scene of an incident, receive multimedia content and pinpoint mobile callers' location data.
The company will integrate NextNav's z-axis services, to allow its clients to hava a heightened level of intelligence, combining vertical location data and video to amplify on-scene awareness with actionable Height Above Terrain (HAT) data and visualization tools, the company said.
Contact:  Nextnav, media@nextnav.com, www.nextnav.com.
U-blox Introduces IRIS-W1 Module Portfolio
Thalwil, Switzerland-based u-blox has introduced the IRIS-W1 series in its radio
stand-alone module portfolio. The IRIS-W1 is a tri-radio module supporting Wi-Fi, Bluetooth LE, and Thread (including Matter).  It is designed for the industrial segment.
The IRIS-W1 series is suited for such applications as industrial automation, medical equipment, EV charging, smart building and smart home (including smart appliances), after-market telematics, and industrial power tools, the company said.
Contact:  Natacha Seitz, u-blox, 41 76 436 0788, natacha.seitz@u-blox.com, www.u-blox.com.
Powerfleet Acquires Movingdots
Powerfleet PWFL -2.93%↓ has acquired Bremen, Germany-based Movingdots, an insurance telematics provider.  Movingdots, in partnership with parent company Swiss Re's Automotive and Mobility unit, provides risk-based drive style analytics for fleets and personal auto risk.  The acquisition, of which financial details were not disclosed, is expected to close in the first quarter of 2023.
Contact:  Heather Smith, Powerfleet, (605) 203-0605, hsmith@powerfleet.com.
---
Create a FREE ManyMe Account.
---
Topcon acquires Digital Construction Works
Topcon Positioning Systems has purchased construction software and data integrations and services company Digital Construction Works.  DCW's services and software integration platform allows customers to use construction data made available across multiple apps and software, the company said.  As part of Topcon, DCW will enhance the value of Topcon's software that is used in machine-guided operations, the company said.
Contact:  Staci Fitzgerald, Topcon Positioning Group, (925) 245-8610, corpcomm@topcon.com, www.topconpositioning.com.
Bridgestone Rolls Out Road Conditions
Bridgestone Mobility Solutions [BRDCY] has introduced Road Conditions to help cities and municipalities, road authorities, map providers and commercial fleet owners better understand the state and quality of roads, the company said.  The solutions portfolio provides insights based on aggregated and anonymized data from Webfleet-connected vehicles.
These advanced data solutions will play a fundamental role in future mobility, enabling development of smart cities, mobility-as-a-service providers as well as connected and autonomous vehicles, the company said.  Bridgestone Road Conditions is currently available in UK, Ireland, France, Spain, Portugal, Italy, Poland, Netherlands, Belgium, Germany, Switzerland and Austria.
Contact:  Bridgestone, www.bridgestone-emia.com.
Adtran Partners With Satelles
Adtran ADTN -6.77%↓ has signed a strategic partnership with Satelles to enable operators of critical infrastructure to safeguard their timing networks with Satellite Time and Location (STL) technology. By integrating Satelles' STL into its Oscilloquartz network synchronization products, Adtran will provide an alternative to GNSS systems or a way to augment them with enhanced reliability and security, the company said.
With the ability to deliver highly precise PNT service, even in GNSS-denied applications, STL is targeted to mobile operators, power utility companies, government, scientific research and more.
Contact:  Gareth Spence, 44 1904 699 358, public-relations@adva.com, www.adtran.com.
Quake Global Signs Telematics Hardware Contract With Yanmar
Quake Global has announced that it has been selected by Yanmar Holdings to provide telematics hardware for industrial equipment, including their Spraying Robot YV01.  Yanmar's autonomous spraying robot, used for wine production, will use Quake's modem that synchronizes the route map and real-time information to locate the unit.
Quake Global's modems can be installed on a wide variety of equipment and machinery in order to enable them to be located, tracked, managed, and monitored from a remote location, the company said.
Contact:  Hide Tsuya, Quake Global, sales@quakeglobal.com, www.quakeglobal.com/request-a-demo.
Telit Launches GNSS Modules
Telit Cinterion has announced the SE868K5 family of GNSS chipsets that consists of SE868K5-D and SE868K5-I modules.  The SE868K5-D is optimized for global deployment, while the SE868K5-I shares the same architecture in a defeatured design for cost-optimized application in the Indian market, the company said.
Early marketing samples of the SE868K5 family are available now, engineering samples will be available in May 2023, and mass production will take place in June 2023.
Contact: Leslie Hart, Telit Cinterion, (919) 415-1510, Leslie.Hart@Telit.com.
Thinaer Recognized in Gartner's Magic Quadrant
Thinaer has been recognized as an honorable mention in Gartner's 2023 Magic Quadrant report on indoor location services.  Thinaer's indoor location services are designed to provide real-time location data and analytics to optimize companies' operations, the company said.  The company's indoor location solutions are used in a variety of settings including aerospace, manufacturing, warehousing and U.S. Department of Defense.
Contact: Thinaer, PR@thinaer.io, www.thinaer.io
Jobs
Partner Account Manager. Geotab.
Job Openings. U-blox.