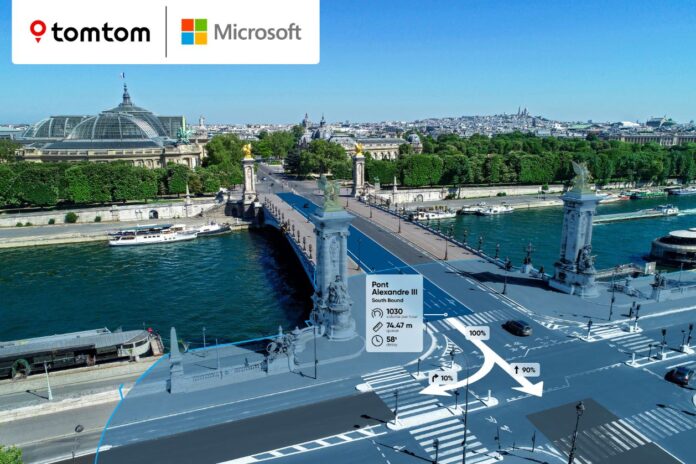 TomTom's Road Analytics Products Available in Microsoft Azure Marketplace
TomTom [TOM2] has announced that Microsoft MSFT 0.02%↑ Azure customers can now purchase its Junction Analytics in the Microsoft Azure Marketplace.  TomTom Junction Analytics leverages historical and real-time traffic data based on anonymized speed data from more than 600 million connected devices worldwide, the company said.
Target markets for Junction Analytics are road authorities, highway agencies and traffic management centers.  TomTom Road Analytics solutions run on Azure to take advantage of the scalability of Microsoft's cloud-based services, the company said.
Contact:  TomTom, mediarelations@tomtom.com, www.tomtom.com.
OMF Releases Latest Map and Data Updates
Overture Maps Foundation (OMF) has released its latest set of updates and data, which features improvements to the Overture transportation layer with engineering expertise and data from TomTom [TOM2] combined with enhanced open data from OpenStreetMap.  One of Overture's goals is to create a representation of the world's road network, a core input into the $340−$400 billion dollar geospatial technology and location intelligence industry, OMF said.  "Understanding how all these sections link together is what allows location tech companies to build routing algorithms, detailed maps and other location-based services that help millions of drivers navigate the world's roads," OMF said.
Contact:  Overture Maps Foundation, www.overturemaps.org.
Taoglas Launches SynergyX MA 1559 Antenna
Taoglas has launched its SynergyX MA1559, a 9-in-1 next-generation permanent mount antenna.  The GNSS antenna uses GPS/QZSS L1/L2/L5/L6, GLONASS G1/G2/G3, Galileo E1/E5a/E5b/E6, BeiDou B1/B2a/B2b/B3, NAVIC L5, as well as SBAS (WAAS/EGNOS/GAGAN/SDCM/SNAS) for centimeter-level positional accuracy, the company said.
Typical applications include autonomous driving, precision positioning for robotics, precision agriculture, inventory management and container tracking.
Contact:  Taoglas, www.taoglas.com.
STMicroelectronics Rolls Out Modules
STMicroelectronics has launched the STM32WB09 wireless microcontroller that comes with the latest Bluetooth 5.3 software.  ST also rolled out the STM32WB1MMC wireless module and B-WB1M-WPAN1 evaluation board.
The unit supports Bluetooth 5.3 capabilities, including direction and distance finding for accurate position detection, thereby enabling applications such as real-time locating, indoor positioning, item finding, and asset tracking, the company said.
Contact:  Michael Markowitz, STMicroelectronics, (781) 591-0354, michael.markowitz@st.com.
HERE Helps Diwali Travelers
HERE Technologies is helping travelers heading to India's Diwali holiday with traffic data and analytics.  HERE has identified optimal departure times, historical traffic patterns, road conditions, and real-time data, the company said.
To access this year's Diwali traffic insights in real-time, download the HERE WeGo app, available for both Android and iOS devices.
Contact:  Camy Cheng, HERE Technologies, 65 9088 4127, camy.cheng@here.com.
Quectel Modules Achieve Safety Certification
Quectel Wireless Solutions has been awarded the ISO 26262:2018 Functional Safety Process Certificate by Bureau Veritas (BV). In addition, Quectel's LG69T (AB) automotive-grade GNSS module has received certification for meeting the ISO 26262 ASIL B metrics, which underscores the LG69T (AB)'s ability to fulfill functional safety requirements, the company said.
Quectel's LG69T (AB) GNSS positioning module based on the STMicroelectronics Teseo APP platform. When combined with multiple positioning technologies such as Real-Time Kinematic and dead reckoning, this dual-frequency module can achieve centimeter-level positioning accuracy, the company said.
Contact:  Quectel, media@quectel.com, www.quectel.com.
---
Create a FREE ManyMe Account.
---
BRINC Delivers First LEMUR 2 Drones to Emergency Responders
BRINC has announced the first deliveries of its flagship drone model, LEMUR 2, to customers in U.S. public safety agencies.  These units will be used to de-escalate dangerous situations, assist in search and rescue missions, and improve first responder safety, the company said.
The drone features lidar, GPS-denied/no light position hold, thermal sensors and others.
Contact:  BRINC, brincpr@mgroupsc.com, brincdrones.com.
TCarta Trident SDB Toolbox Featured in Ocean Mapping Project
TCarta Marine has delivered three satellite derived bathymetry (SDB) data sets to The Nippon Foundation-GEBCO Seabed 2030 project.  Students in Canada participating in a 2023 summer internship program created the SDB products for the entire coastline of Madagascar, Newfoundland, and two Canadian Arctic research areas, the company said.
Launched by The Nippon Foundation of Japan and the General Bathymetric Chart of the Oceans (GEBCO) program, Seabed 2030 seeks to inspire the complete mapping of the entire ocean floor by the end of the decade, the company said.  TCarta's Trident SDB Toolbox, software applications running within Esri ArcGIS Pro, is used to extract water depth measurements from remotely sensed imagery with machine learning and satellite lidar, the company said.
Contact:  TCarta Marine, (303) 284-6144, info@tcarta.com, www.tcarta.com
Cavli Wireless at India Mobile Congress 2023
Cavli Wireless rolled out an LTE Cat 4 module at IMC 2023.  It is equipped with the Qualcomm QCOM 0.00%↑ Location Suite Gen 9VT engine, supporting multi-constellation GNSS.
This LTE Cat 4 module features data rates with 150 Mbit/s downlink and 50 Mbit/s uplink with 2G fallback, the company said.
Contact:  Ajit Thomas, Cavli Wireless, 91-79946 09995, ajit@cavliwireless.com , www.cavliwireless.com/
---
Chat with your enterprise databases using secure generative AI and empower business users in your team to do their own data analyses in seconds.
---
People
Mortimer Downey, U.S. Deputy Secretary of Transportation in the Clinton Administration and early champion of intelligent transportation systems, died in Fairfax, Va., on Nov. 2, 2023.
The Overture Maps Foundation (OMF) recently named Amy Rose as its first technical director.
PTV Logistics has appointed Elisabeth Kurek as CMO and Nico Brinkmann as chief human resources officer.
Jobs
Careers. Zoox.
Strategic Sales Manager – Enterprise. TomTom.
Business Development Manager. Aura Network Systems.
GNSS Research Engineer. Zephr.xyz.
Product Manager, Autonomy. Monarch Tractor.
---
Click HERE to Join our growing Location Business News LinkedIn Group!