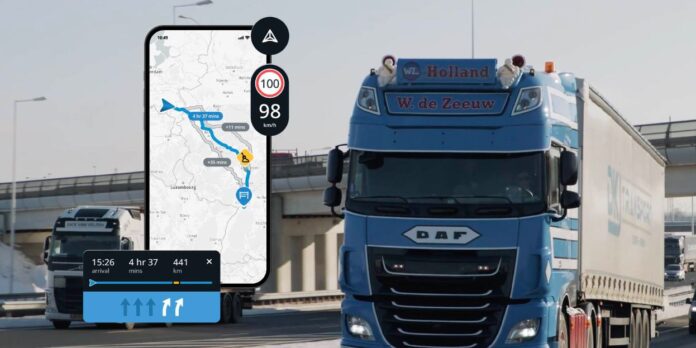 Germany-based PTV Group entered the U.S. fleet tracking market recently with a new truck navigation app.  CEO Christian Haas says the PTV Truck Navigator G2 compliments existing U.S. tracking systems.
"With our app, we deliver a useful addition to other leading systems. For example, a TMS system that sends orders to our navigation app via an interface," he said.  "The exciting thing about our product is that it works on any Android smartphone.  PTV Navigator does not compete with telematics devices–on the contrary, it enhances them."
In Europe, Haas said the company works with many telematics providers – not only in truck navigation.  "Many of them use our PTV Developer components within their tools to solve vehicle routing problems. And I see lots of potential in the U.S. market here as well," he said.
As Location Business News reported, PTV Group will use TomTom [TOM2] to power its maps, truck routing and other functions.  PTV Truck Navigator G2 will consider a truck's size, weight, cargo, road hazard restrictions and tunnels to calculate a route, the company said.  Much of the route information comes from TomTom's database of traffic data, historical traffic patterns and predictions, the company said.
TomTom, which has worked with PTV Group in Europe for 10 years, says the expansion will allow businesses to have more accessible location data.  "By making fresh and accurate location easily assessable to businesses, we can create safer and more comfortable experiences for drivers and end-customers," said Mike Schoofs, TomTom Enterprise managing director, in a statement.
Haas says TomTom's new map ecosystem is definitely "a great gain" for PTV Group.  "Together with TomTom, we want to create an impact. This also applies to improving the safety and efficiency of public roads," he said.  "For example, we work on a joint project for the German motor way operator, Deutsche Autobahn GmbH. TomTom data and our real-time traffic management software enable a comprehensive overview of the road network and the impact of bottlenecks and roadworks, allowing traffic mitigation measures to be anticipated and implemented."
Haas said that the SDK to embed PTV Navigator G2 into third-party mobile solutions is planned for Android in early 2023.  "For iOS, it will be later in the year," he said.